-Galla S Kiran Kumar,Bureau Chief Telagana(Andhra Pradesh)
Hyderabad: The 'Raj Bhavan siege' program called by the Telangana Congress has become tense. It is learned that Congress president Sonia Gandhi has called for the siege of Raj Bhavan to protest the entire probe into former president Rahul Gandhi. With this the Congress ranks tried to go to the Raj Bhavan on a large scale in various ways. Tensions were high at the Khairatabad junction on this order. The two-wheeler was set on fire by concerned cars. The RTC bus mirrors were smashed. They boarded the bus and chanted slogans against the central government.
Chiefs in police custody ..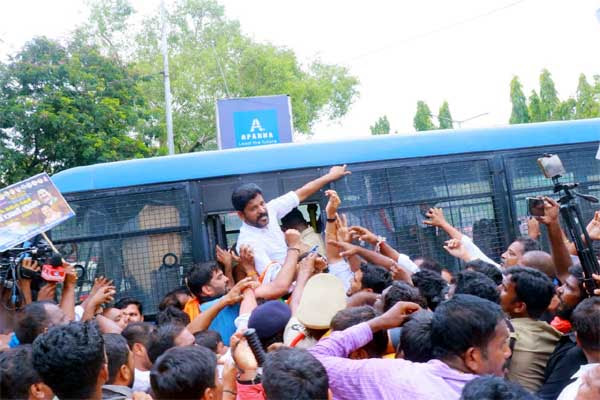 Police, on the other hand, have set up large-scale barricades everywhere to prevent them from entering the Raj Bhavan. Pushing them, the Congress leaders stormed out. TPCC president Revanth Reddy, Jaggareddy, Geeta Reddy, Bhatti Vikramarka, Bosuraju, Srinivas Krishnan, Mahesh Kumar and other leaders marched towards the Raj Bhavan. Revanth Reddy, Jaggareddy, Bhatti Vikramarka and Telangana Mahila Congress president Sunita Rao were arrested by the police in this connection.
A scuffle broke out between Congress activists and the police
Tensions were high when activists blocked Rewanth Reddy from moving him to the station. Hundreds of Congress leaders and activists took part in the protest. Against this backdrop, the police and the protesters took place. Some activists were outraged. Tensions were high as activists tried to break into the palace. During the raid, police lashed out at Congress leader Chamala Kiran Reddy and activists. Later, Revanth Reddy was shifted to Bollaram, Bhatti Vikramarka, Jaggareddy, Goshamahal, MLA Sridhar Babu, Mahesh Kumar Gowd and others to Panjagutta PS. 
Renuka Chaudhary grabbed the police collar and pulled it
Police have tried to arrest Congress women leaders in protest. Police rounded up Renuka Chaudhary to take her into custody. She then got into an argument with the police. She grabbed the police collar and dragged him away as he tried to take her into custody. On this occasion she said that she was accused of trying to strangle the voice of democracy. Renuka Chowdhury was later forcibly shifted in a vehicle by the police. 
Traffic jam in Khairatabad ..
Large scale traffic jam at Khairatabad junction due to Congress protests. Police stopped vehicles on the route. This caused ambulances to get stuck in traffic.