With Mrigaraja.. Muripala Redu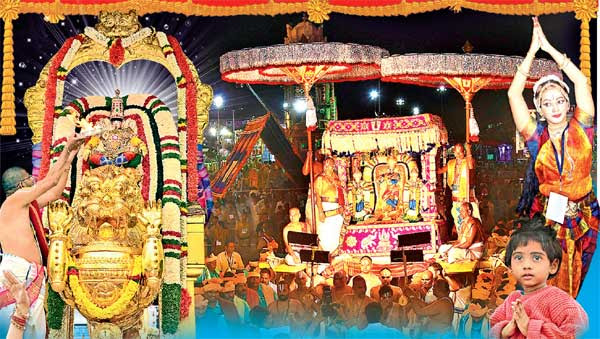 -Galla S Kiran Kumar, Bureau Chief (Telangana &Andhra Pradesh)
In the morning.. on a lion chariot.. as Yoganarasimha, at night.. on a canopy of pearls.
Malayappaswamy appears as Venugopala along with Rukmini Satyabhama
Tirumala: As part of Srivari Salakatla Brahmotsavam, Sri Malayappaswamy Yoganarasimha appeared on a lion chariot on Thursday. From 8 in the morning to 10 o'clock in the morning, they went for a walk in four streets. They marched on the lion to protect the evil training and dignity. A lion is a sign of prowess, courage, brilliance, and dominance, Haldwani. Through the vehicle of the lion, Srivara has proved that I and my vehicle, the lion, will make an equal effort to destroy the wicked who act in ignorance. At night Sri Malayappaswamy appeared on a pearl canopied vehicle along with Rukmini and Satyabhama in the decoration of Venugopalaswamy. Sri Peddajeyar Swamy, Sri Chinnajeyar Swamy, Tithide Chairman YV Subbareddy, EO AV Dharmareddy, Board Members Ramulu, Ashok Kumar, JEOs Sada Bhargavi, Veerabraham, CVSO Narasimha Kishore, CE Nageswara Rao were present.
Today in Brahmotsavam: Kalpavriksha Vahanaseva will be held from 8 am to 10 am on Friday and Sarvabhupala Vahanaseva will be held from 7 pm to 9 pm.
Three worlds.. Devoted devotees
in honor of Srivari Brahmotsavam, the flower show is arranged at the local Kalyanavedi, and the performances of various departments of Thithi are impressing the devotees. Devotees attending the Brahmotsavam are visiting the exhibition hall. Children are being explained the importance of Puranas and the glory of the three worlds in which Brahma, Vishnu and Maheshwar are measured. They are reaching the respective display settings and taking selfies and saving them in their cell phones.

Srinivasa and Padmavati are artists in the guise of goddess
Dance by artists of East Godavari district dressed as Aghoras
The crowd of visitors at the fruit and flower show
A setting of Chhatrapati Shivaji observing Bhakta Tukaram Bhakti at Pandurangaswamy
---
Darshan of Srivari in 8 hours
Tirumala, Devotees are flocking to Srivari Dharmadarshan during Brahmotsavam. By Thursday evening, devotees were waiting in 15 compartments of the Vaikuntam Q complex. Thithide officials said that they will get darshan of Swami within eight hours.
Increasing traffic..
Devotees who came at 10 am on Thursday got darshan of Srivari within an hour. After that, the traffic increased. The traffic of Brahmotsavam is likely to increase further due to the possibility of the large number of devotees coming from Tamil Nadu in the wake of Garuda Vahanaseva on Saturday. 64,823 devotees visited Srivara on Wednesday. Hundi gifts of Rs.3.03 crores were received.