-Galla S Kiran Kumar,Bureau Chief Telagana (Andhra Pradesh)
Amaravati: The police imposed restrictions on the protest rally organized by the TDP legislative party to solve the farmers' problems.
During the assembly meetings, the TDP MLAs made arrangements to go on a protest rally with empty wagons, but the Tullur police stopped them. 
The empty carts were moved to the police station and the tires were deflated. 
Edla was chased by the police about a km away from the station. 
TDP MLAs and MLCs staged a protest in front of the Tullur Police Station protesting the attitude of the police.   
After that, a protest rally was taken out from Mandam on Edla Bands. TDP legislative party deputy leaders Achchennaidu, Nimmala Ramanaidu, MLC Nara Lokesh along with many MLAs and MLCs went to the protest carrying Edlabandi Kade. 'Raitu Drohi Jagan', 'Where is the affordable price?' They continued the rally displaying placards with slogans like 'Crop Holiday in Jagan's rule'. On the way, they hit the police cordon and dragged the cart to the assembly gate.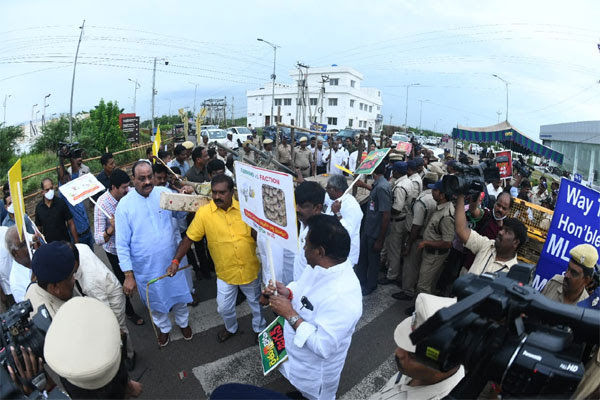 Initially, the TDP leaders expressed their anger on the Tullur police blocking the carts. Nara Lokesh got angry saying that they want to arrest Ed. There was tension between the police and Lokesh for a while in the vicinity of the assembly. Achchennaidu said that the CI severely beat up the farmer who had given the cart to the TDEPA protest. He demanded that action should be taken against the policemen who attacked the farmer. They will protest on this issue in the assembly as well. The TDEPA leaders alleged that they had to announce the crop break due to the government's mischievous actions. They said that due to the coterie under the CM, the peasants are being treated with great injustice.