1.You were among four contenders for the top job. The others were 3 SBI MDs, but longer residual service by you in the Bank Government clinched the decision in your favour. You had succeeded Pratip Chaudhuri as 24th Chairperson of the largest Bank of the Country., First women Chairperson with 3 years terms which was also first time in Bank's 207 years History and you got extension for another year  for your good works. You had joined the Bank 39 years ago as Junior officer, served in many positions, held positions of with huge  responsibilities and challenges, witnessed of country's economic up and down as well the Bank's. You were involved in setting up several new companies in the Bank's umbrella such as SBI General Insurance, SBI Macquarie Infrastructure Fund, SBI SG Global Security Services and launch of IT Platforms, Mobile Banking etc. Can you please narrate little about your long career with SBI and your feelings now?
Response: I joined SBI as a Probationary Officer in 1977 and have continued here since then. Looking back on my journey of over 39 years of association with SBI, I am filled with an immense sense of satisfaction.  In retrospect, my decision to take up banking as a career did turn out to be the right choice because of the extraordinary variety and range of experience the Bank has provided and the wonderful, admirable colleagues, a second family so to speak, one has had the good fortune to meet and befriend en-route. I have therefore never been tempted to move to more lucrative avenues even though offers and opportunities were available.  I see my work not as one job but a combination of many jobs as each assignment which I went through in my career path has been unique and can be counted as a new job each and every time. Starting from my first assignment at the foreign exchange division of the bank's Kolkata Main branch, it has run the gamut of all spheres of banking like Retail, Corporate, Foreign exchange, International exposure via a posting at New York, Treasury, Rural, New Business, HR, Investment banking and finally as Chairman.
The transition was of course full of challenges but these challenges were not insurmountable.  I had the courage and conviction that I will overcome and make my mark. This strength came from the knowledge that I had great and unstinted support of my family and colleagues. Within the organisation I never felt that I was alone to meet the difficulties. My team was always available to take up the slack when required.
2. You had joined the likes MDs & CEOs of Chanda Kochhar, MD of ICICI Bank; Shikha Sharma of Axis Bank; Naina Lal Kidwai, country head, HSBC; Kaku Nakhate, president and country head (India), Bank of America Merrill Lynch, Vijayalakshmi Iyer of Bank of India; Archana Bhargava of United Bank of India and Shubhalakshmi Panse, of Allahabad Bank and Usha Ananthasubramanian of Punjab National Bank.  You were the first ever women to lead Fortune 500 Company of India. Being a woman how do you maintain relations and professional exchanges with above mentioned women Heads? How you have managed to work smoothly with most male colleagues in Management and in overall Bank staff? There were any problem you faced during last three years as women Chairperson? 
 Response: Gender was never an issue in my early days. In fact the organisation often went out of its way to meet the requirements of women, be it posting or any other problem which one may have. We felt protected and nurtured and the environment was never threatening. This could be on account of the relatively lesser number of women in the work place then. Current dynamics are different, with more women in the top management as well as junior levels, but I feel that the response of caring and nurturing which I experienced still needs to be the same. I keep this in mind whenever issues pertaining to our women employees come up for my consideration. Moreover, I believe that once you reach the top, it is more about the responsibilities, your ability to lead your team and interact with professionals, more than the gender. While it makes me feel proud as a woman to see so many women at the top echelons, I have never felt much difference in interacting with leaders of opposite gender.
 3. During your 1st interaction with the media, you had said that the war on non-performing assets has intensified and that non-performing managements have no reason to continue being in office. It was really a tough talk and most even in Management were surprised, how it has been fulfilled in last 3 years?
 Response: When I took over charge, growing NPAs were one of the major problems the Bank was facing.   Our team had gone through each and every account granularly to determine the solutions to help and enable them to come out from the stress.  Committees were formed to monitor all high value stressed accounts proactively and find solutions to prevent their slippages. Our staff have rendered excellent support in our drive to contain and resolve NPAs throughout. The work is continuing.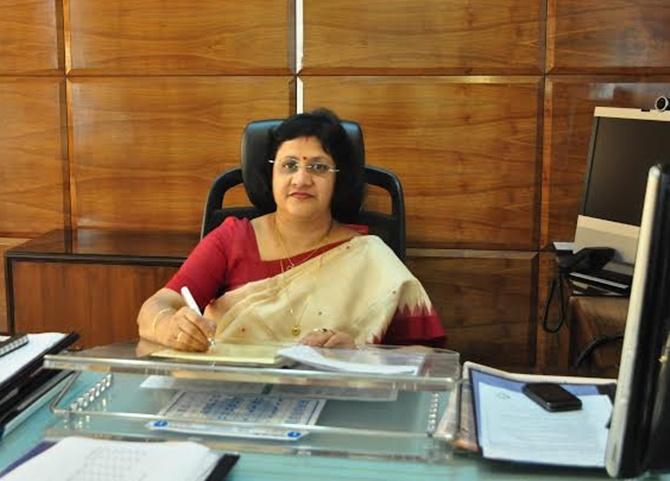 4. You were not very upbeat that time about improvement in the Bank's subsequent quarterly performances. A lot more can be done to improve productivity, you had quipped. The process for the merger of other associate Banks with the SBI was likely to start that year in FY 2014, where it stand now?
 Response: The merger of all 5 associate banks with SBI has been approved by the Central Government on 22ndFebruary 2017. In terms of the separate Orders of Acquisition issued by the Government under Section 35 of the State Bank of India Act, 1955, the merger of all the five banks with SBI will become effective from 1st April 2017. Thus, from 1st April 2017, 7000+ branches and 75000+ employees of all 5 Associate banks will become branches/ employees of State Bank of India.
The business levels of State Bank of India are expected to go up by 30% after the acquisition. With the merger, State Bank will also be within top 50 banks globally in terms of asset size. The mergers are also expected to bring in economies of scale as well as higher efficiencies especially in treasury operations, credit monitoring as also reducing overheads on account of dismantling of Head Office and other administrative set up of the Associate Banks.
 5.You took over the charge when the Bank was battling rising bad loans as borrowers, find difficult to meet repayment obligations in  slowing economy. Your biggest challenge was to improve the Bank's worsening asset quality. The Bank's non-performing assets were 5.5 percent of all assets in the June quarter. At that time  Net profit in the 1st quarter fell 13.6% to Rs. 3,241 crore against Rs 3,751 crore in the same quarter of previous year. Now the Bank is in shape and performing well under your leadership and with the good works by Managements and staffs, Net profit been increased in many fold, how you have come out from those bad days and reached in today's position, once again in number 1 despite many losses? How overall all staffs and Trade Unions are happy, what is the Corporate mantra that worked Miracle?
 Response: The level of NPAs in the industry will generally be in tandem with the prevailing conditions in the economy.   When I took over the charge as the Chairman, the industry was grappling with slowdown in the economy and growing NPAs due to stalled projects and lack of policy initiative to resolve them.  Corporate loan book started showing asset quality issues due to the borrower's default in their repayment obligations.
Tackling the NPAs in the industry needs concerted three pronged efforts by the Govt/Regulators, the promoters and the banks.   With the new Govt. in place in 2014 with single party majority, the business sentiment has improved.  Regulators have started several measures to address the NPAs in the industry like guidelines on CDR, SDRs and S4A to revive the corporate portfolios followed by the Government's initiatives in strengthening the DRTs and Bankruptcy code for streamlining the recovery mechanism.
We have undertaken several initiatives to address the NPAs proactively.   We have formed a Committee system at Corporate Centre to monitor the high value stressed accounts and determine differential solutions to resolve them.  Similar committees have been put in place at Circle level to monitor the accounts and prevent further accretion to the NPAs. These efforts yielded substantial improvement and the level of NPAs declined to 4.25% as on March, 2015.
However, the Asset Quality Review by RBI had led to substantial increase in NPAs during the 2015-16 across the industry due to classification of assets displaying inherent weakness and provision for NPAs with retrospective date resulted in increase of NPAs to 6.50% as on March, 2016.  Concerted efforts are being made to prevent further slippages and management of stressed assets in the Banks is a continuous exercise.  With the initiatives launched by the Govt. such as bankruptcy code, strengthening of DRTs etc. the NPA level in the Bank is expected to improve.
 6. What is your opinion on recent economic condition of the country especially after Demonetisation? About the currency and role of Reserve Bank as well Government's view? What is Bank's position in present economic situation? How you have succeed to handle aftermath of November 8'16 when high value notes been banned? What is your view of Present Governments overall performance?
 Response: On 8 Nov'16, around 86% of the currency in circulation was demonetized with the aim of curbing corruption, counterfeiting, and the use of high denomination notes for terrorist activities, the accumulation of "black money" in the economy and increasing formalization of the economy through digitalization.
The initial impact of demonetization was contraction in economic activity, particularly in those areas where cash intensity of the sector was high – such as agriculture, transport, MSME etc. It must be borne in mind that it is not yet possible to ascertain what the real impact was with absolute accuracy. For instance in agriculture which is mostly cash financed, after demonetization net sown area has increased. This is surprising, but in many areas farmers resorted to barter to avoid delay in sowing. It was clear that by harvest time, cash supply will be fully restored.
There were frenzied predictions that demonetization would adversely affect the poor and the GDP will decline during the subsequent quarters. However, the Q3 GDP data (7.0%) released by the CSO belied the forecasts and in fact kept the upward momentum intact.  For the full year, India's GDP is estimated to grow at 7.1%, unlike the popular view that it will drop down significantly post demonetization. Also, only one quarter has passed since demonetisation and its impact is going to be long term. I believe that there will be more positives than negatives in the long run.
However, the good news is that FY18 growth could move up once remonetization is complete and as this move is aimed with long term gains in sight it is not expected that it will lead to any lingering risks.
However the Central Bank has been working vigorously towards remonetization and Currency in circulation for the week ended 17 Feb'16 has increased to Rs 11.31 trillion, which is around 65% of the currency in circulation pre demonetization / 57% of the replenished currency.
The situation has normalized to a great extent and with the greater number of people moving towards digital modes of transactions, RBI may not even need to remonetize the entire amount of extinguished currency.
Though the announcement came as a bolt from the blue, we appreciated the intent and we were able to organize and mobilize all the resources to ensure minimum inconvenience to the public.  In fact our staff toiled extra hours every day and even on few holidays to help the public exchange their SBNs within the time limits. RBI also tried very hard during the exercise by printing the new currency notes to replace the old SBNs in adequate numbers. However, there were some issues in terms of logistics especially transportation of currency to RUSU and remote areas where public were inconvenienced to some degree.
From the business point of view, though demonetization has helped banks to garner huge amount of deposits but the credit growth has declined. Going forward, we believe things are improving and credit growth will start to pick up, though slowly. Bank is well capitalized and its diversified portfolios hedges against the possible risks in the economy.  The stress that is seen in the Corporate Loan book presently is temporary and with the policy push given by the Govt. and its commitment to resolving the stalled projects along with initiatives being launched to address the NPAs in the Banking industry will substantially improve the bottom-line of the Bank.
Finally, the present Government has been formed with full majority ensuring stability in Governance. They have launched several initiatives for development especially improvement in rural areas like PMJDY, PMMY, PMSJY and PM Fasal Bima Yojana.  Bold initiatives like demonetization, rationalization of indirect taxes through GST, Bankruptcy code to improve the recovery of the institutional debt indicate the Government's resolve to improve economy and create a conducive environment for growth.
S Kumar – Executive Editor